Dear Customers,
First of all, The leadership and employees of Chien You Vietnam Joint Stock Company would like to send you our sincere thanks and greetings.
Chien You Vietnam Joint Stock Company was established from June 25,1996, formerly a member unit of Chien You Industry Corporation (Taiwan), We have experienced 27 years of establishment and development, gain the trust of Customers, Partner, our products and services have affirmed their position in the market.
From the main product is the production of all kinds of semi-trailers (1) for the transport market, types of tanks with high pressure, chemical tanks. Up to now, the company has developed more hot-dip galvanized and metal-coated products (2), this is a new direction in the growing trend of Vietnam's economy and customers' demand for metal surface coating of buildings to increase durability is increasingly concerned.
1.For Chien You VN, semi-trailers are the main products, the core and always put the criteria of quality, convenience and safety for users first. Through that, we gradually build the perfect production process, select the best supplier and enhance service quality.
In the general context of the growing country, export-oriented is the key, Semi-trailers transporting import and export containers of Chien You VN have been contributing an important part in the circulation of goods, deliver goods from seaports to factories and vice versa, movement of goods in seaports and transport of goods by road…
In addition to contributing a part to economic growth, the quality of Chien You VN's products also contributes to making Vietnam's traffic – like a blood vessel in the body – safe, more transparency through product quality. That is the mission Chien You VN always strives for every day.
2. In the era of industrialization and modernization of the economy and development trends like today. The use of metal products, metal structures to serve the construction of transport infrastructure such as bridge girders, railings, light poles… oil and gas rig structures, tall steel column structure, system of hydroelectric dams, factories, Industrial and civil works always need metal pipes, U, V, I steels for assembly. All are increasingly required for durability to withstand harsh weather such as sunshine, rain, terrain near the sea or remote mountainous areas, meet the aesthetic needs of the product.
We are aware of that, Chien You VN has officially launched a new and potential service: Hot-dip galvanizing technology for products with metal structures.
HOT-DIP GALVANIZING
Hot-dip galvanizing is a protection technology by coating a thin layer of zinc on metal surfaces.
This zinc layer is formed by dipping the metal into a bath containing melted zinc.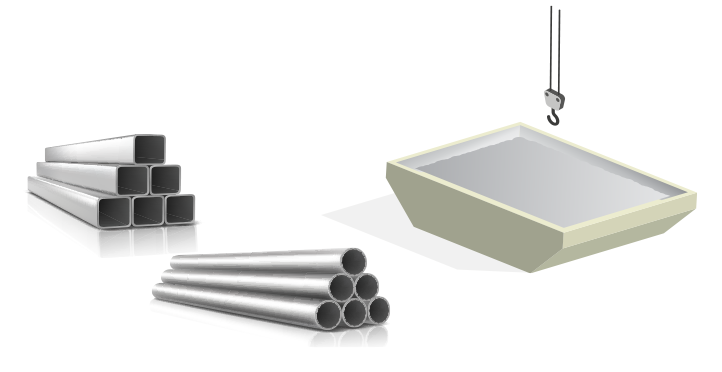 All products of Chien You Vietnam Joint Stock Company meet the following standards:
ASTM A153/ A153M – 16a,  AS/NSZ 4680:2006,  ASTM A123/A123M – 17,  BS EN ISO 1461:2009,  JIS H8641:2021,  TCVN 5408:2007 (ISO 1461:1999).
Specification of galvanizing tank: 12,7m long x 1,6m wide x 2,6m deep.
And we apply the leading technologies such as using clean gas (CNG) without affecting the environment, can adjust the heating up and down quickly in accordance with thegalvanizing temperature of each product to createthe best products.
With the purpose of improving and enhancing the durability of products with steel structure, we believe that: "Coming to Chien You Vietnam Joint Stock Company is coming to the QUALITY of products and the PRESTIGE of brand".
We will perform this service in the most complete and best way for customers who have demandon hot-dip galvanizing.
Please contact us for advice and supply of the most perfect service to create condition for development as well as build a sustainable partnership.
Thank you and best regards,
Chien You Vietnam Joint Stock Company
On behalf of the Company
Chairman
Dao Thanh Bac